Anyway..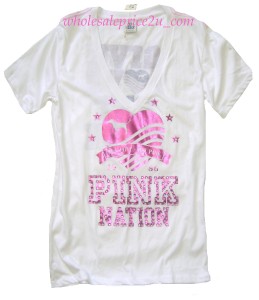 Victoria's Secret had a tiny bit of clothing leftover from the Semi-Annual Sale, so I got a pair of PINK jeans for $14 and a PINK Nation tee shirt for $6... pretty good. I think that's just about all I can get until the sale comes around again in June-ish?
I also got this cute tee shirt from the new Spring line and a free mini-dog! My daughter has a small collection of mini-dogs, so she was quite thrilled with my purchase. My shirt is actually a v-neck. I like myself a nice v-neck.
Today was the day I had been dreading. I was supposed to have my blood taken for my diet that I wanted to start at or before February 1st. This morning I had breakfast with my Aunt and as I was getting ready to leave for my doctor appointment she asked me if I was supposed to fast. SHIT. I totally forgot and I don't think that two huge blueberry pancakes and several glasses of orange juice is considered fasting. I forgot. Whoops. Oh, and you also see why I desperately need to go on a diet. So now I have to go on Saturday early in the morning.
This is my first week back to work full-time. Actually I start again tomorrow but its almost a full week. I'll be working 7:30 to 5, Monday through Friday until June. I am probably going to lose my mind. I am one of those people who hates getting up in the morning. I normally have to be up by 6 in order to leave by 7:15 but I have to set the alarm a good hour before I have to be up, as I snooze about five.
I am already ready for the weekend. Unfortunately, as previous stated, I must be up early on Saturday for my make-up appointment.